I would like to share a couple "gifts" Tracy Visits has received from some clients. Tracy Visits gives the Gift of Time to each of our clients, however, in return we receive some amazing gifts from our clients.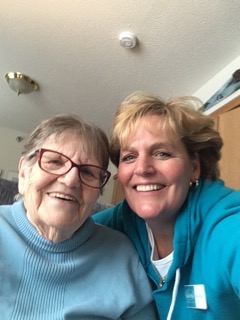 One of our clients, who is not very vocal; but she listens; looks; observes and will use two to three word comments during our visits. When our visits first began, I would ask for permission to give her a hug; now it is a two and three hug visit! When I walk into the room she smiles and extends her arms out, waiting for a hug. This client has become more positive; engaging, and holds my hand. The feelings of trust and acceptance this client now has during our visits is the ongoing gift to Tracy Visits! This client has opened up enough to say, "I Love You". The family was amazed she said these words; truly a gift!
Another one of our clients is feeling so much trust and security in the relationship, we have built, that he
has started to sing in front of me. A very private and proper gentleman who is now showing his love for music. He gives the gift of his funny songs and songs from musicals that he loved to watch during his life. The hugs he gives are also now something he waits for when arriving for the visit and when the visit is over. His family shakes their heads learning that he is singing and giving hugs!
A gift we receive are comments from a client who says, "I miss you when you aren't here" and "I will be waiting for you when you return." Comments like these are gifts because, we know, giving the much needed social interaction; the one-on-one visit, is so vital to our clients well-being. This client has become more calm and courteous to those around him because of the knowledge he will have a visit, twice a week, from someone he now trusts.
K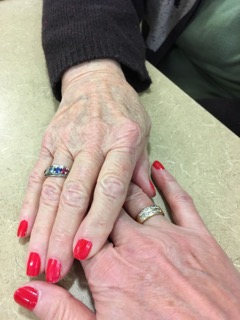 nowing our visits, with our clients, are anticipated and so appreciated, brings such joy and affirmation that Tracy Visits is truly giving something that can't be measured with material or monetary value. The benefits we are seeing, hearing and experiencing from our clients, from each visit, is a gift back to us!
As one clients' son said, "you give him joy and purpose and the intimacy that no group activity, no medication, really nothing else can provide."
A CARING VISIT WHEN YOU CAN'T...TRACY VISITS
www.tracyvisits.com